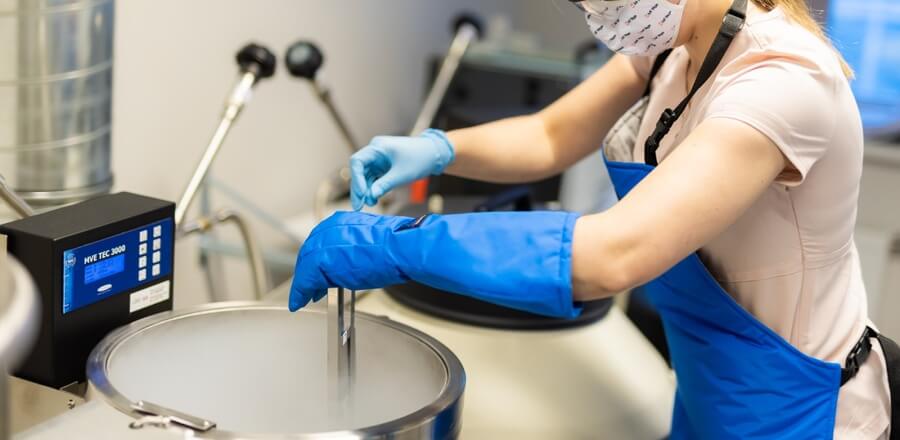 Freezing and storage of sperm in iVF Riga Reproductive Cell Bank
iVF Riga Reproductive Cell Bank offers freezing and storage of sperm for patients.
According to Latvian legislation, the storage period of patient genetic material is 10 years.
Medical indications:
Poor sperm tests. The transfer of sperm several times for cryopreservation makes it possible to accumulate the necessary amount of sperm for the artificial insemination programme.
Preservation of fertility in patients with oncological diseases, since chemotherapy and radiation therapy lead to the cessation in sperm production.
Premature depletion of testicular tissue.
Surgeries of the male genitourinary system are expected.
Adverse social and occupational factors affecting reproductive health (harmful production site, emotional burnout syndrome...).
In such patients, sperm should be frozen prior to initiating therapy and subsequently stored in the cryobank. After overcoming the disease, patients who have undergone oncology treatment have the opportunity to have children again.
Social indications:
This service is useful for men who want to postpone having children for social reasons such as career development, marital status, etc. This way, a patient who has frozen genetic material retains the opportunity to become father in the future, maintaining young and high-quality sperm, as it is known that cell quality deteriorates with age and under the influence of various factors.
In cases when the right partner has not been found. Freezing at low temperature (cryopreservation) is a safe and proven method that does not affect the ability of sperm to fertilize.
Men have the opportunity to have the sperm freezing procedure done during their first visit, which will help save time (sperm can be used in the infertility treatment at the right time, without requiring presence at the clinic and allowing free planning of time).
What to do to freeze sperm at our clinic?
Men who wish to freeze their sperm at our clinic must take tests for infections. This can be done at any laboratory or at our clinic.
Upon arrival at the clinic, you will be requested to give your genetic material and, after checking the quality and quantity of the material at the laboratory, sign a storage contract and pay for the service.
Freezing and storage of sperm for a year costs EUR 450
Sperm is stored in the IVF Riga Genetic Bank for a period of up to 10 years and is available at any time.